In the Church are two framed documents, one telling of the erection of the memorial, signed by the dignitaries involved, the other listing the villagers who served in the 1914-18 War, with names of those who died in action written in red and gold.
Click on the photo for an improved image of the roll or honour.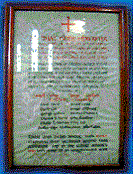 We are pleased to note the addition of J.H.Grewcock to the Hints Roll of Honour as of October 2001. It seems that the two Grewcocks were brothers, and we are now hoping to find more information on all of those listed.
We are most greatfull to the staff at the Staffordshire Military Museum for providing us with this extra detail.